There's a question we've been getting asked a lot! That question is how to turn a painting - or some piece of physical art - into a digital format to print on fabrics. Whether you're a proud parent looking to immortalise your child's finger paintings, or a professional painter who hasn't yet taking time to digitize their artwork, this guide will help turn physical images into a digital format that is good enough to print with. Keep reading to find out how.

Intro
So, long story short, what you're going to need to do is take either a scan or digital photo of the art at hand, and turn that digital image into a raster file, like a JPEG or PNG, if it's not in that format already. This raster file is what will be uploaded into the design lap to edit how your please then be printed onto your custom fabric. This may sound confusing and intimidating, but don't worry, we're going to walk you through it. To best do this I'm actually going to show you a step by step example of turning a piece of art my dog made into fabric! Meet our artist...Oka!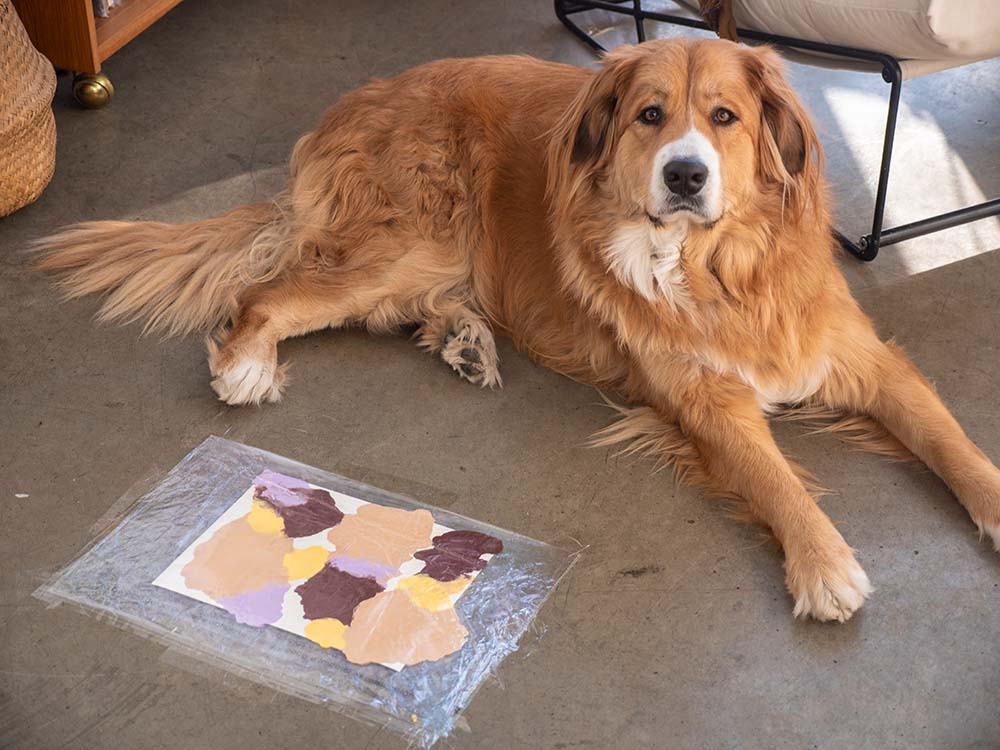 Taking Your Photo
As mentioned, we're first going to need some sort of digital image of the artwork. Attaining this image can either be done by taking a high quality photo of it - we'll explain what "high quality" means in a little bit - or by scanning the image directly onto your computer. Check out this helpful video for tips on how to get your image from a scanner. For those of you who don't have access to a scanner, a high quality photo is going to be the way to go. Most smartphones these days will be able to take a photo of high enough quality for this purpose; just make sure you have your artwork in bright, consistent light and that the camera is held still. This will help prevent your image from turning out grainy or blurry. Simple, adjustable tripods can be purchased at most Dollar stores and are super useful to hold your phone steady while you arrange your photo.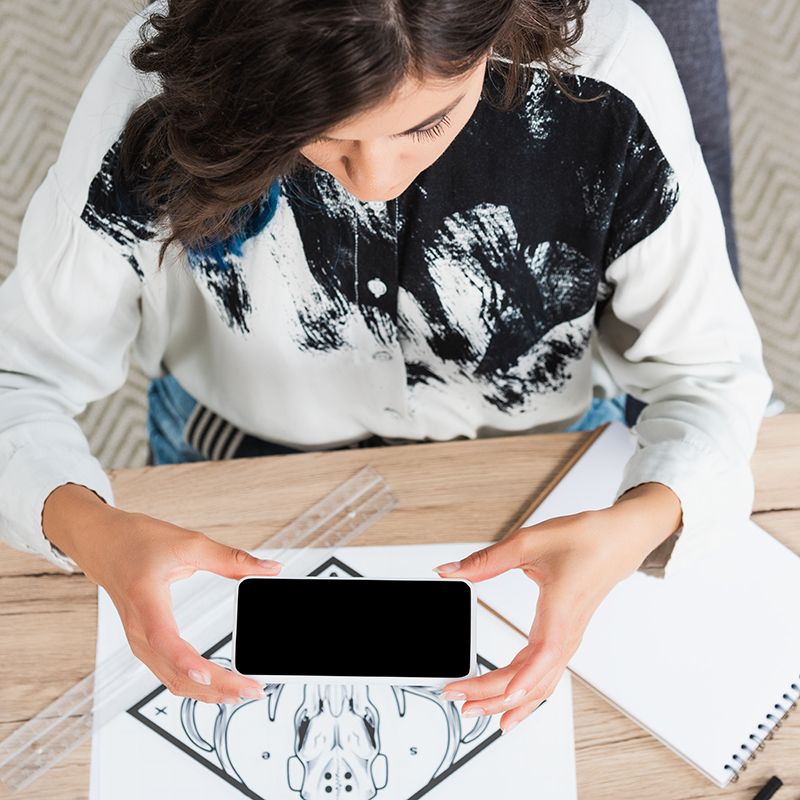 Getting your image from your camera to your computer will depend on what type of camera you're using, but you can typically either plug the camera into your computer, plug the memory card into your computer, or share the image straight from your camera to your computer via email, text or airdrop.

This photo I took of my dog's art was taken in my apartment, with the curtains open and all artificial light turned off so I was only using natural light. I took it with an IPhone 11 and, because I also have a Mac computer, I was able to simply send it from my phone to my computer using airdrop.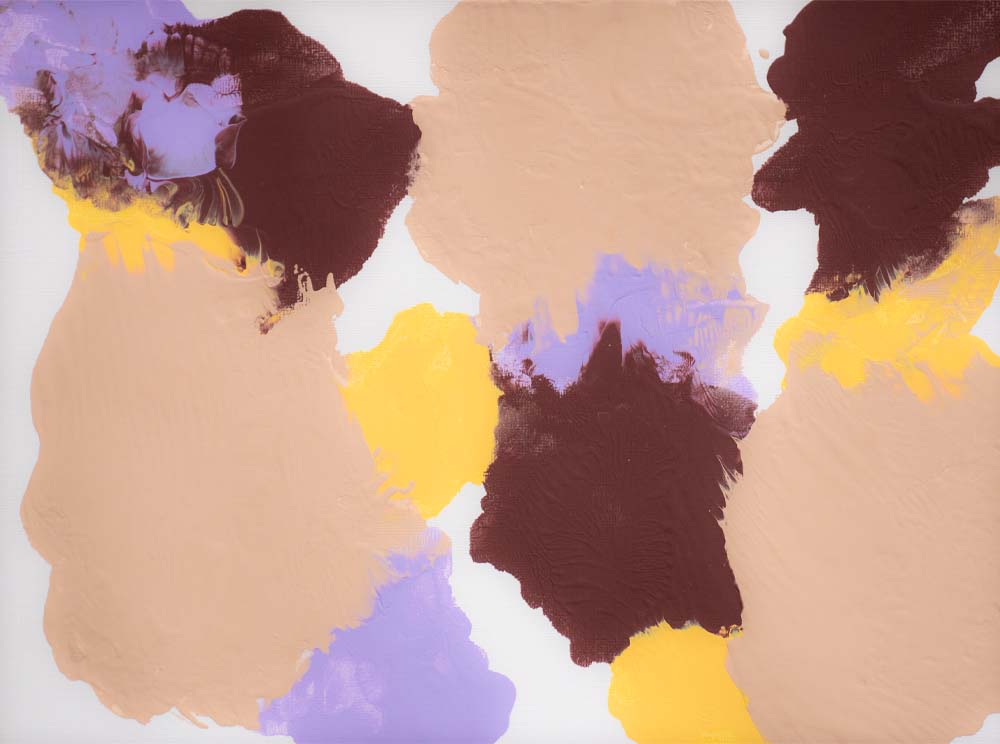 Photo Format
Most cameras will automatically take your image as a JPEG file, which is perfect! Sometimes if this isn't automatic you can still change the settings on your phone or camera so that it does take JPEG photos. If for some reason your original image is not in either a JPEG or PNG format, you can easily resave ("save as", on most computers) your image and simply change the file format so that it resaves as either a JPEG or PNG file.

The IPhone 11 it took my photo with automatically saves images as .heic files. Because of this, I ended up having to resave the file onto my computer into .jpeg format.
There are many different services online to help you convert file formats without needing to use a photo editing program like Photoshop. One of my favorites is Convertio. You can use this service to convert files from one format to another and it's totally free! The conversions are fast and from my experience, highly accurate.


Photo Quality
Now I mentioned earlier in this blog that your image needs to be "high quality". Let's talk more about what exactly that means. Our Design Lab automatically uploads every image at the largest possible size with a photo quality of 150 dpi (or 150 pixels per inch). This means that if your photo quality, or dpi, isn't high enough then your photo will be uploaded into the Design Lab at a relatively small size, likely smaller than you'd desire for this specific project. Simply increasing the size of the photo in the Design Lab, or in photoshop, won't be possible because when you increase the size you're simultaneously decreasing the photo quality. We suggest taking some test photos with your camera to make sure you can obtain a high enough DPI before you proceed to photographing your artwork.The higher the dpi, the larger you can make your image

Turning Your Photo Into Fabric: Oka's Artwork
Now that the technical stuff is out of the way and you have a high quality JPEG or PNG file, all you need to do is upload it into the Art Fabrics Design Lab. Our Design Lab has a variety of editing capabilities built in, from basic colour editing to more dramatic editing of shape, size and repetition. Once in the lab you'll be able to play around editing your image exactly how you want. Or don't edit it at all and simply create fabric with the original, raw artwork! It's completely up to you.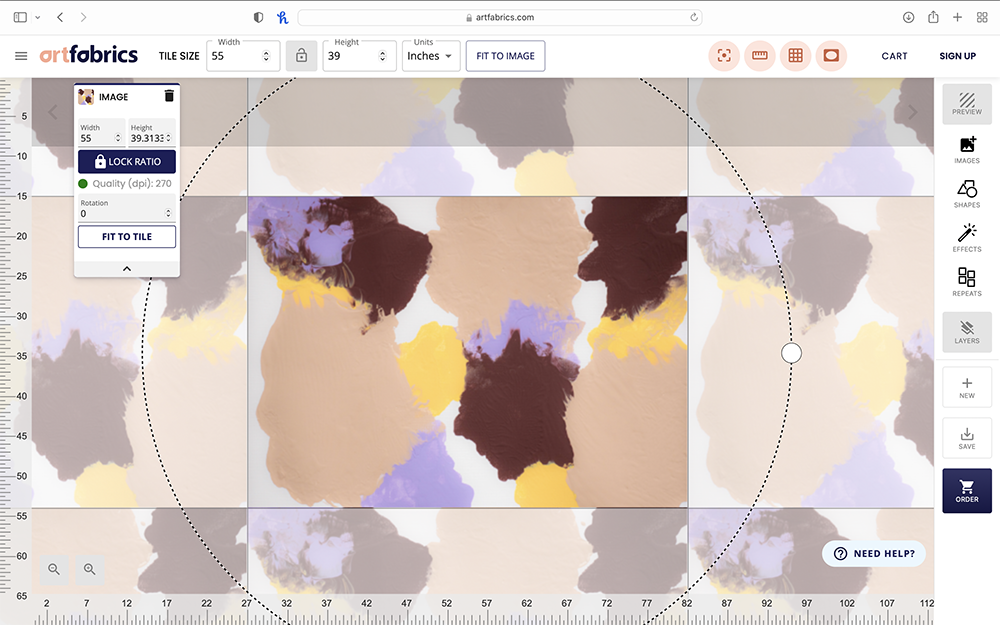 I personally wanted to keep this piece of art as is, so all I did was slightly edit the colours to make them really pop.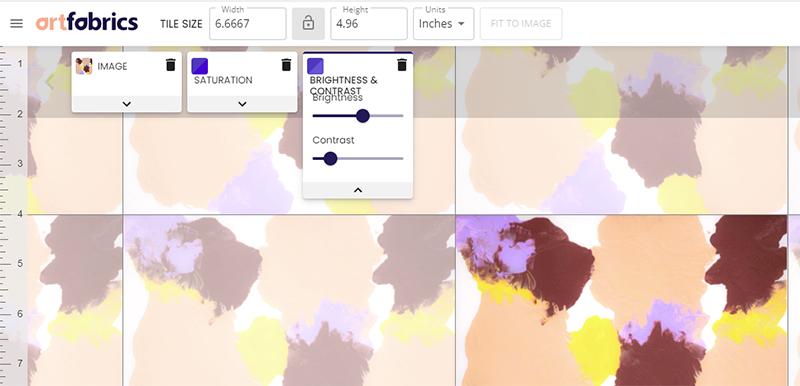 Turning Your Photo Into Fabric: Kate's daughters artwork
This is another piece of art that we turned into fabric. In this case, it is text done by her daughter that will be vectorized and turned into a fabric print.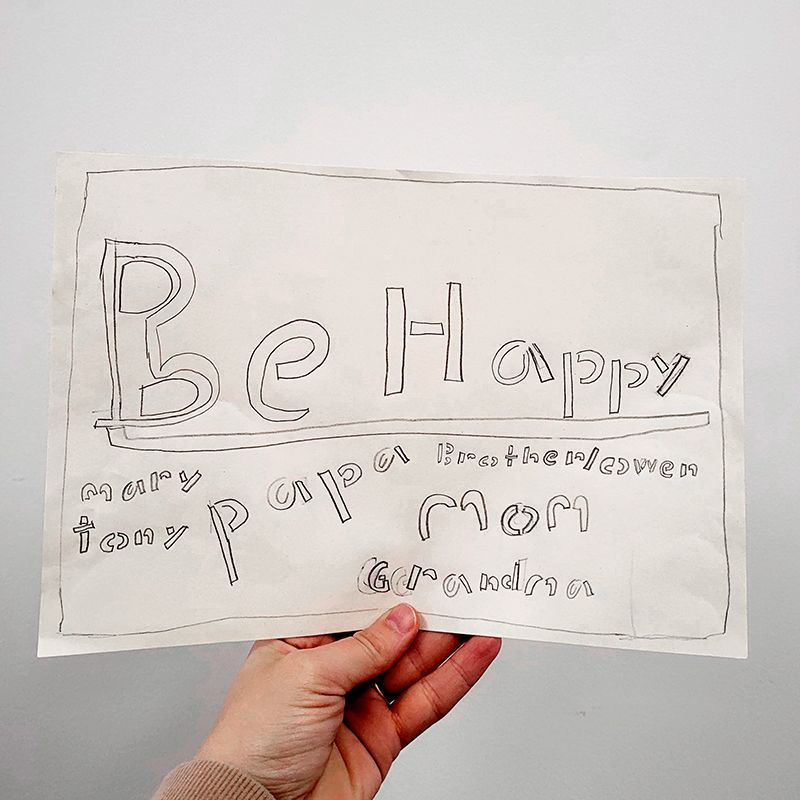 You will see from the photos below we took something that was initially quite basic and used our Design Lab to turn it into something quite different! Initially we added colour using photoshop, then we used the Design Lab to upload multiple images, layering them to create this unique text overlay effect.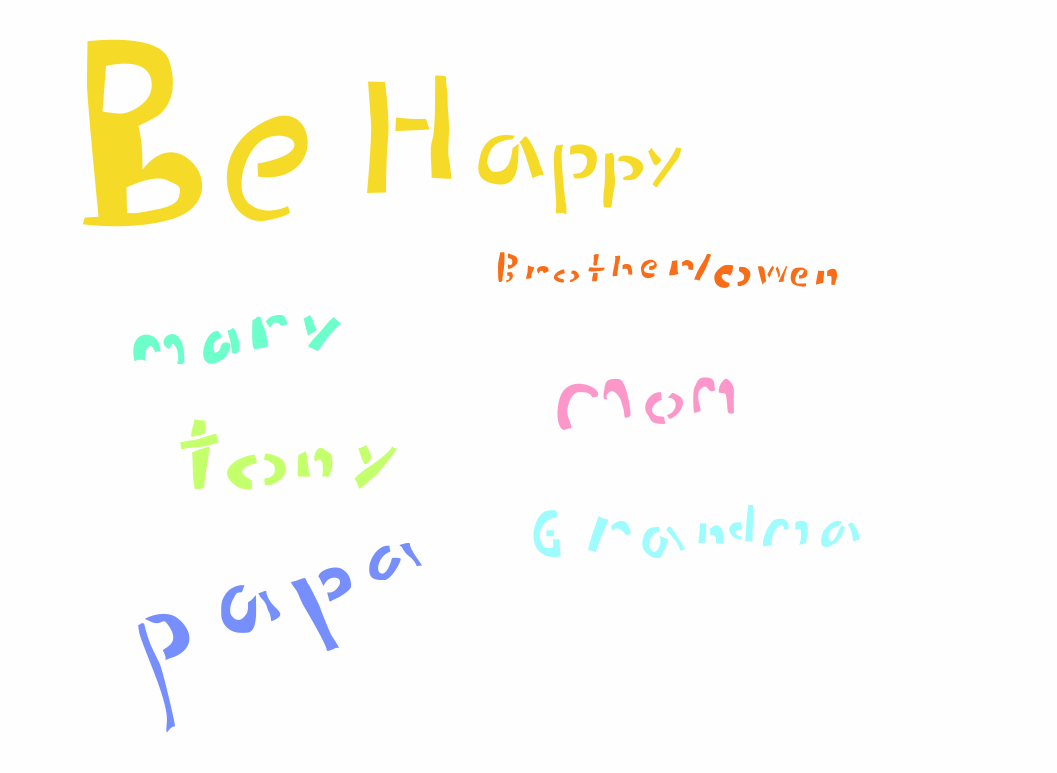 As you can see from both of these examples, whether you want to keep your art as is or turn it into something totally custom, there's a lot you can achieve using our Design Lab.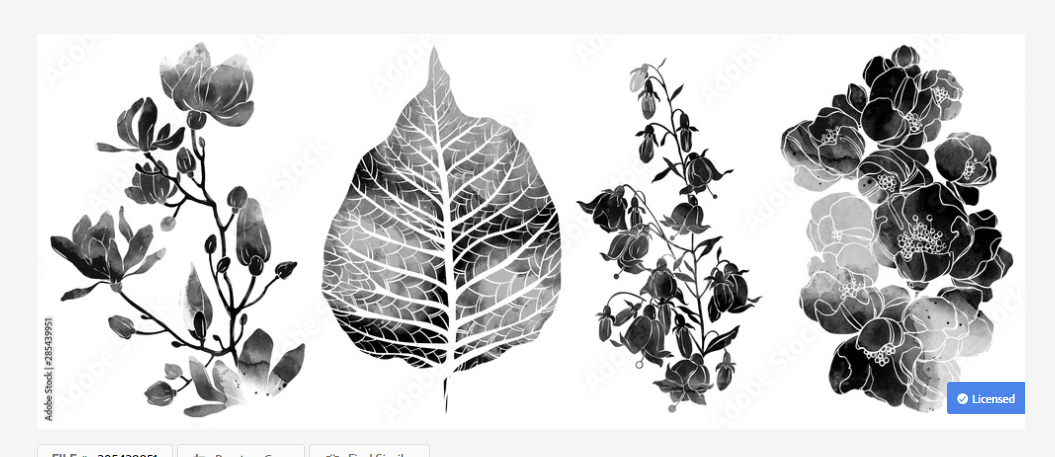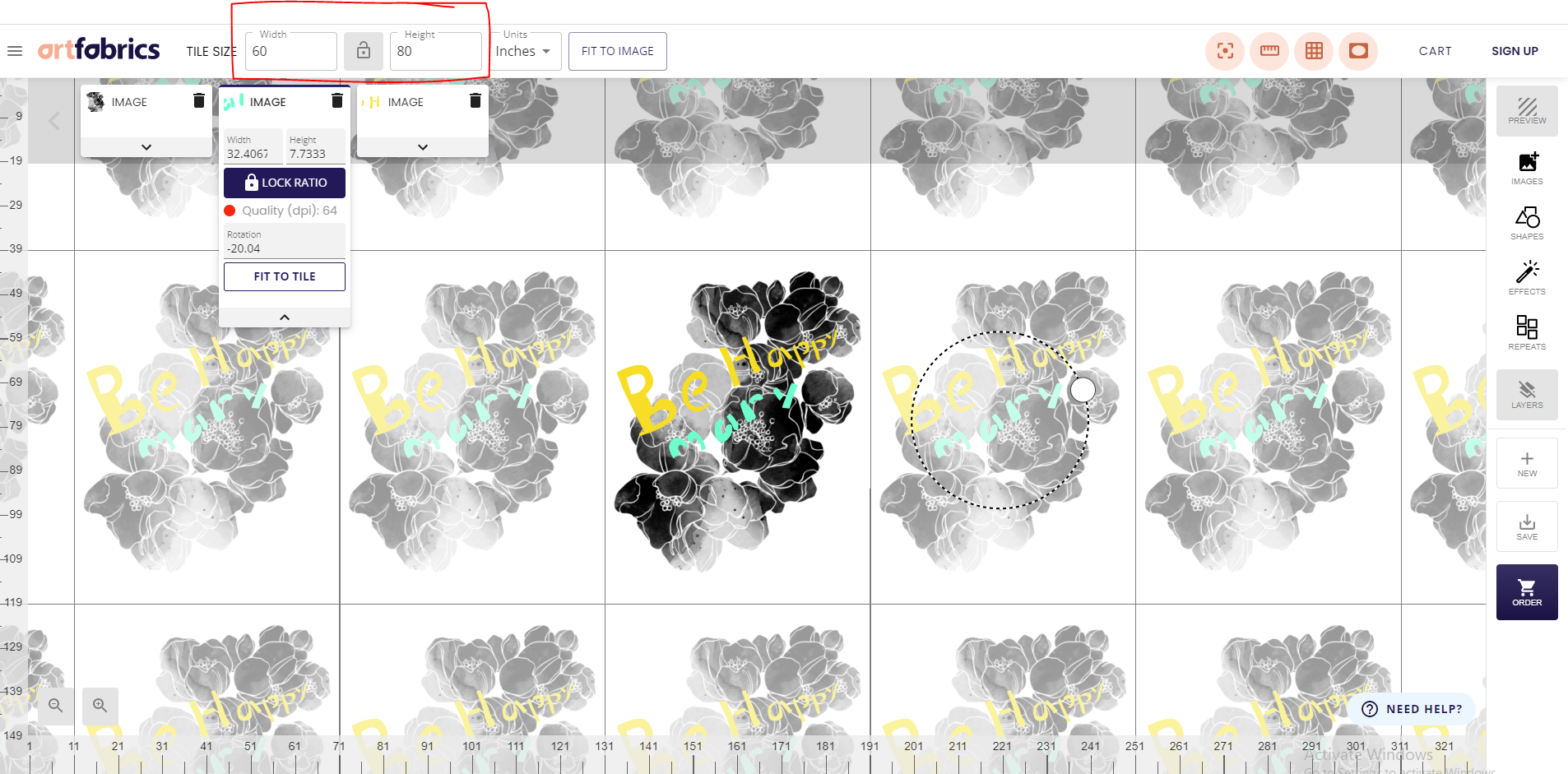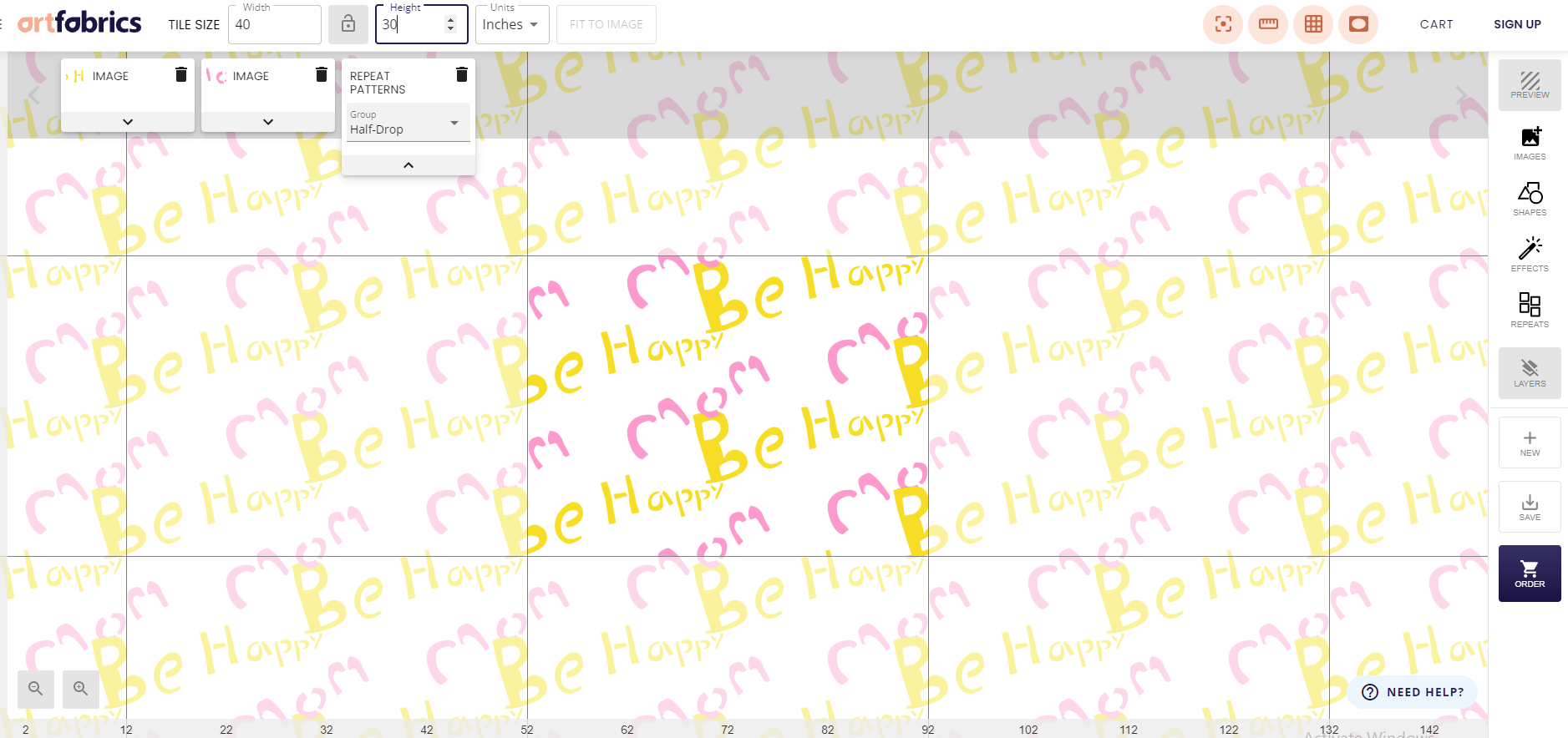 Print Preview and Fabric widths
At Art Fabrics we sell fabric by the meter since we are Canadian and metric based! But we do measure things in inches all the time! A meter is 100 cm or about 39". When you buy a meter of fabric, this is cut from the length. The length in the Design Lab is the vertical axis (up and down). The width corresponds to the width of the fabric. We have 27 different fabrics and they all have different widths, most being between 132 and 147 cm. You can find the widths of each fabric on the main fabrics page.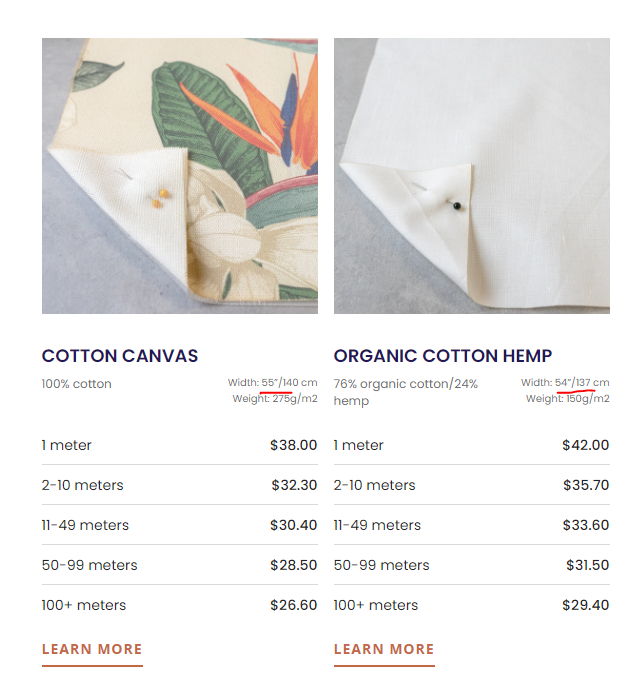 Once you've edited your image as desired you can use the Preview function at the top of the right hand menu to see what the fabric will look like and get an idea of the size of your image details on the meter of fabric. When you are in the preview function, you can change the fabric type in the drop down and you'll notice this will change the width of the preview to suit the fabric. You may be disappointed with your finished fabric if, for example, you preview it on a fabric that is 10 cm wider than the fabric you actually buy.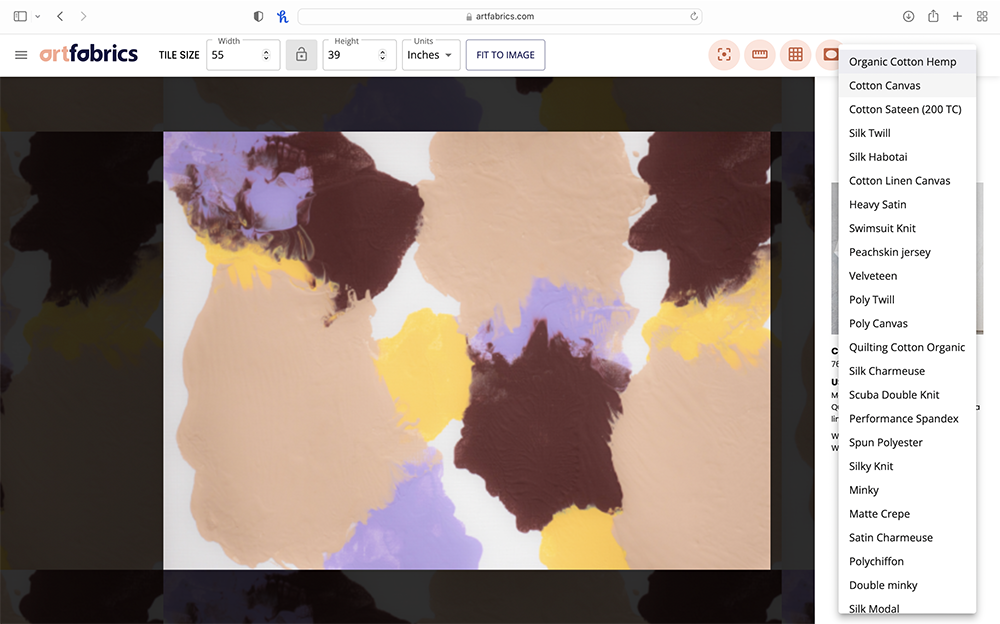 It's important to note that our Design Lab is programmed to display your image at a low resolution in order to keep the lab running quickly and smoothly. This may result in your image appearing slightly blurry if you are using a large or high quality monitor. This does not mean that your image file is low resolution or blurry. Simply use the DPI count in the Image properties box on the left ensure that your image file has a resolution of at least 150 dpi or greater and your final print will be crystal clear. You can see your image dpi in the image properties box in the upper left corner of the Design Lab.
My intended purpose for this fabric is to make a bed for my dog, so the fabric I ended up choosing is cotton canvas. This fabric has a printable width of 140cm, so if my image were slightly wider it would simply be cropped to fit on 1 metre of my chosen fabric. My image, however, is the exact size of 1 metre of cotton canvas fabric, so it was not cropped at all.

Conclusion
This is the fabric I was able to create using the high quality photo I took of my dog's artwork! I absolutely love how it turned out and now I have a usable copy of her artwork that I can keep forever.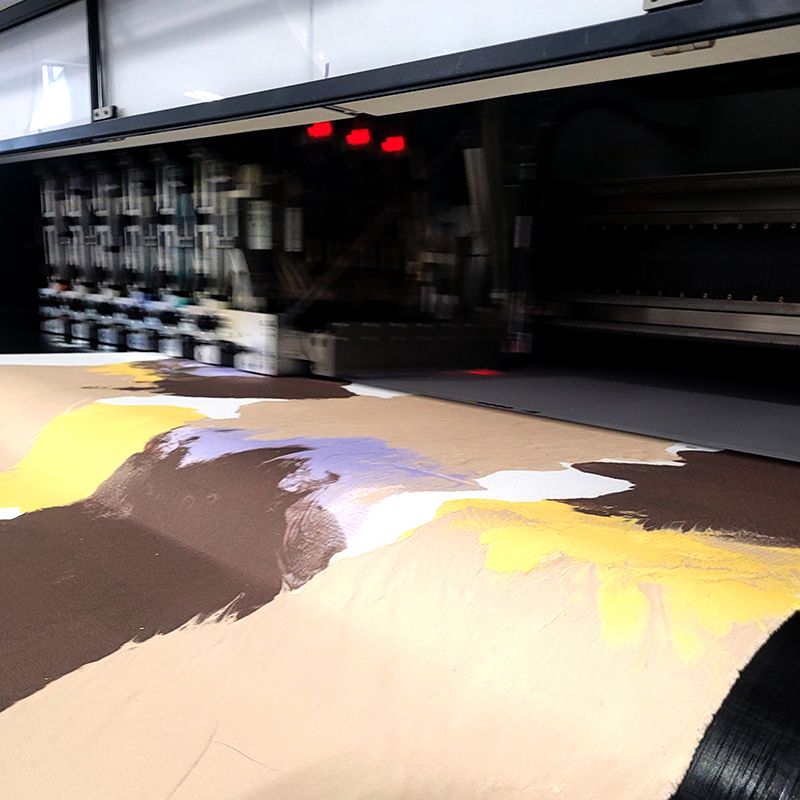 While the process of turning physical art into fabric may have seemed confusing or intimidating at first, we hope this blog has helped you see how simple it actually is! To recap, the most important step in this process is ensuring that your scan or photograph is of high enough quality to reach across a whole metre of fabric while maintaining a quality of at least 150 dpi. As long as you keep this in mind, the rest of the process is easy as pie.
Of course, should you have any more questions or are still confused about a step in this process, don't hesitate contact us and we'll help you through it.