Sometimes embarking on a sewing project can be daunting. How do you find the right pattern? What kinds of fabric do you use? How much fabric do you need to order? There's a lot of unknowns at the beginning. Well what if I told you that a single meter of fabric can actually go much further than you might have thought?

Our goal was to create as many fun, usable projects as we could from 1 meter of fabric. In our search for the ideal pattern - we do the pattern searching so you don't have to! - we stumbled across Elbe Textiles. Run by Lauren out of Perth, Australia, Elbe Textiles is all about "quality over quantity". Lauren has a passion for slow fashion, so her goal is to create patterns that are versatile, stylish and timeless. They have a whole collection of great patterns up on their website, so we highly recommend you check them out next time you're in the market for a pattern. We went with Elbe's Sorrento Bucket Hat, because you can't go wrong with a functional and cute hat for summer!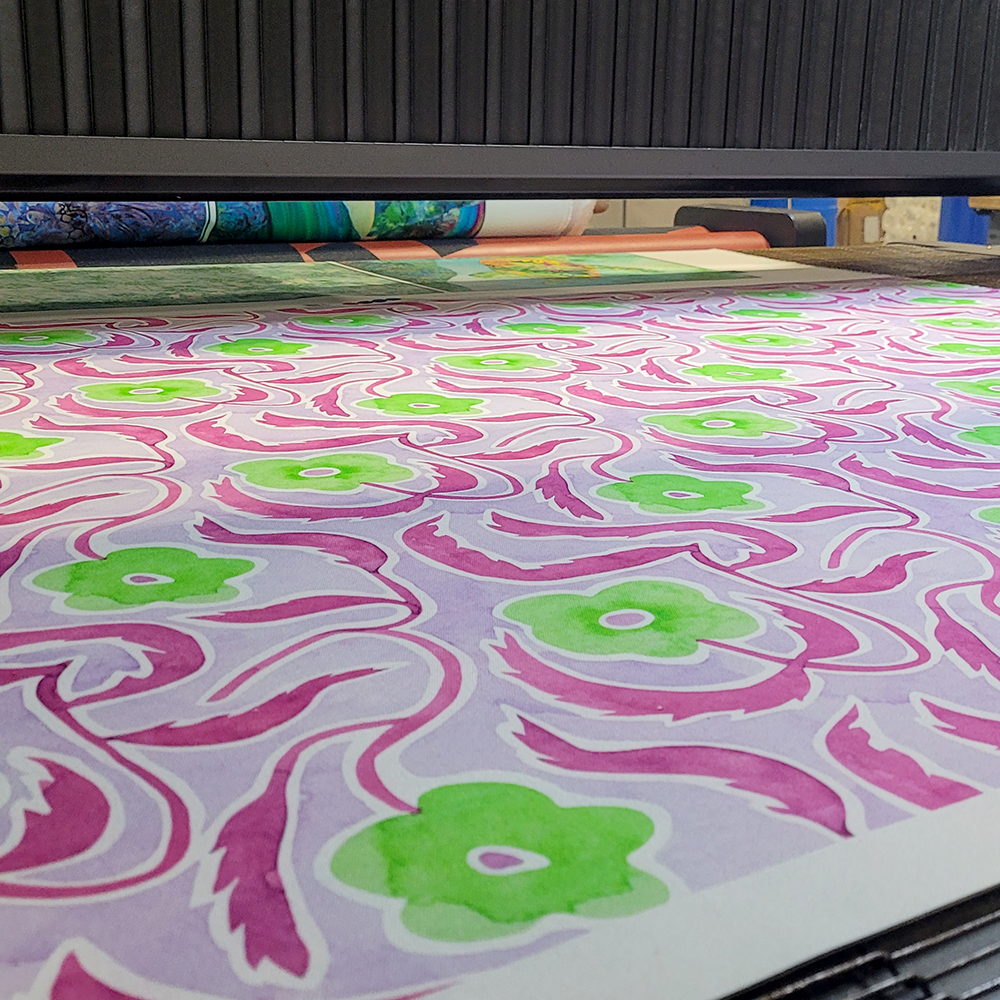 With our pattern picked, our next mission was to decide on the right fabric for the job. We wanted something durable and structured, but not so structured that it's uncomfortable to wear. And, of course, washability was very important! We have a lot of great fabrics to choose from, and many that would be great for a project like a bucket hat, but in the end we decided to go for our classic cotton canvas. Cotton canvas is a 100% cotton, woven fabric with a tight weave and smooth surface. Prints come out looking crisp and clear, which is not the case with many other canvas fabrics that feature a looser weave. This super durable fabric also has a solid structure that lasts through machine washes and dries without losing its shape. I'm sure you can see now why cotton canvas was such a great choice for these Sorrento Bucket Hats.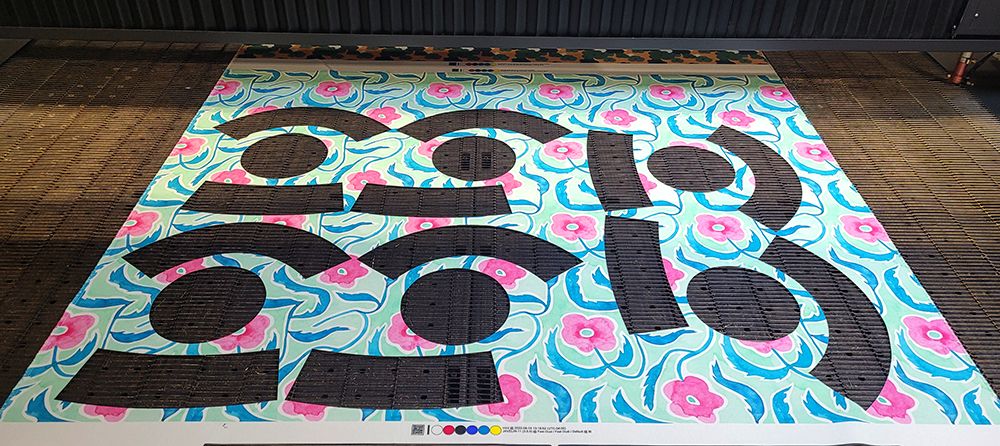 Once we printed 1 meter of cotton canvas with our fun, summery print, we laid down our pattern and saw that we were able to cut out 3 full Sorento Bucket Hats with some fabric to spare! These hats make great gifts, or you can keep them for yourself. You could even have them on a wash rotation for messy kids. This pattern was super easy to sew and the hats turned out beautifully! With the spare fabric we sewed together some simple scrunchies, so there was very minimal waste.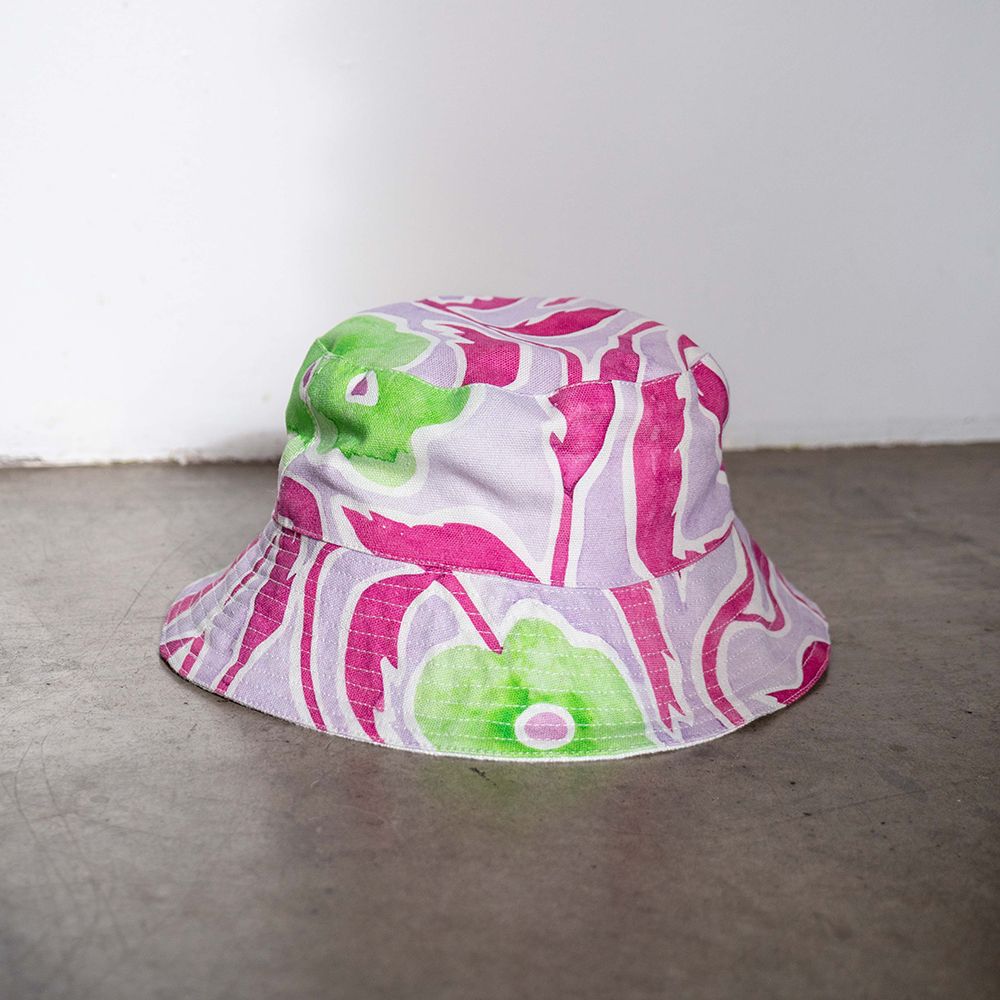 Now for cost. 1 meter of custom printed cotton canvas fabric costs $38 CAD or $31 USD per metre. We purchased 1 metre of lining fabric at a local shop for $6 CAD/metre, which is a pretty standard price for generic lining fabric. The bucket hat pattern cost $5 AUD or about $4.50 CAD, for a grand total of $48.50 CAD spent on all of the fabric and the pattern. If we divide this total by 3 - for 3 hats made - then each hat ended up costing just over $16 CAD each. That's a pretty amazing deal for 3 custom made hats! And it only gets cheaper in the future since the pattern is already paid for. Please be aware that the Sorrento bucket hat pattern is for personal use only so you can make bucket hats for yourself or for gifts, but commercial use is not permitted.
Sewing the Elbe Sorrento bucket hat was a bit challenging, even for a skilled sewer. I'd say intermediate to advanced skills are best for this pattern. It's a project that you don't want to rush and since it's designed to be reversible, you want to make sure your sewing is impeccable on both the inside and out! Take each step one at a time and don't be scared to chalk out your lines to help you get your stitching rows nice and even. Once you make the first one, the steps will make lots of sense and you'll be able to create bucket hats like a pro!
As you can see, 1 meter of fabric can go a long way! Sometimes we think we need to buy tons and tons of fabric in order to make fun projects, but that's not always the reality. With the right pattern, it can be not only easy but also cost effective to make your own products.