Not only can we achieve a huge spectrum of colors with reactive inks from deep rich blacks to pinks and yellows that seemingly jump off the fabric, the prints are highly permanent and can be washed over and over without fading.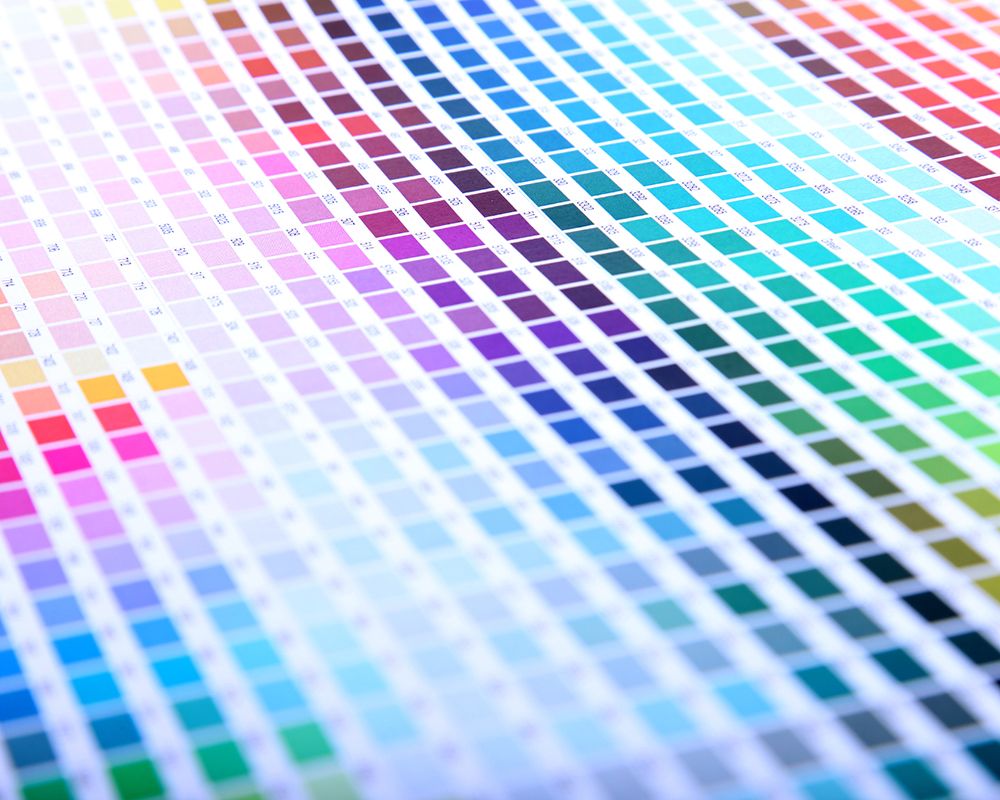 Before we get into the details of what to expect from the print results, we'll break down the reactive process for you!

Pretreating- Pretreating the fabrics is an essential part of the reactive process. It is the process of coating fabrics in a mild chemical mixture that opens the fiber cells to receive the reactive dyes. The fabric goes through a bath and then excess pretreatment is removed with a vacuum. The fabric is dried and rerolled and is then ready for printing.
Printing- Enter Suzy! Our top of the line wide format digital printer! She's amazing. With a total of 36 print heads and 5 vibrant ink colors, Suzy is the real deal in digital printing. She's from the Netherlands and has settled down well in our Montreal studio. The precision and detail we can achieve with our prints is impressive. Even small text prints clearly. I could go on and on about the mind blowing technology that goes into her printheads, but we'll save that for another blog! Suzy is being joined this year with her little sister...name still to be decided!
Steaming- Steaming is the part of the reactive process that allows for the pretreatment and dyes to combine together. The fabrics pass through a steam chamber set to a consistent 103 degrees for 15-20mins depending on the fabric. During this time, the heat and moisture allows the ink and pretreat to react together and sets the print in the fibers. Steaming basically means the fabric gets the full spa treatment and comes out beautiful and vibrant on the other end!
Washing- Now that the dyes are set, the fabric is washed in 3 baths going from hot to cold to remove the pretreat and excess ink. We add a softner to restore any loss of moisture during processing. Once we dry the fabric, the full production line is complete. We now have vibrant permanent prints ready to ship to you and turn into the projects you have dreamed up!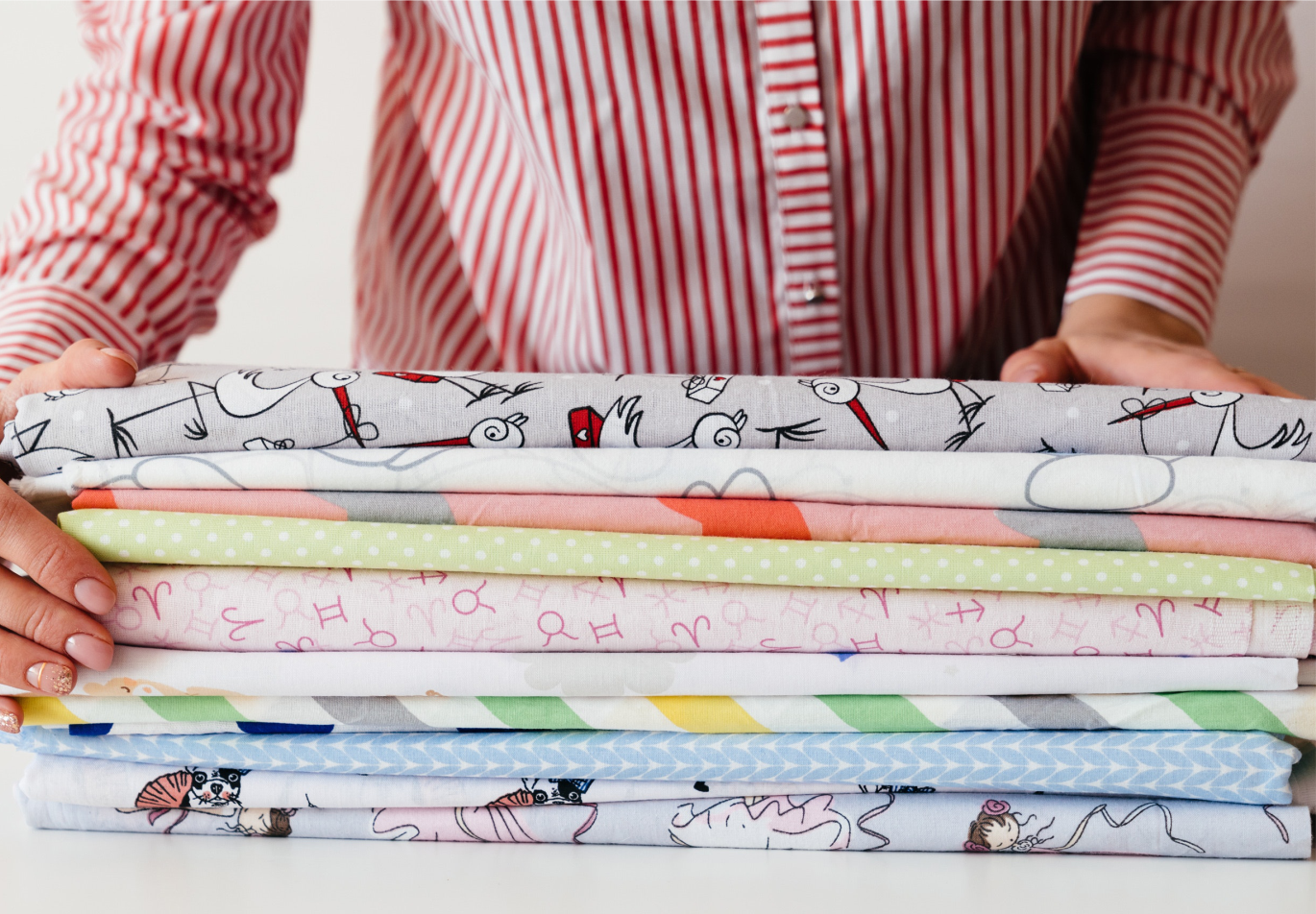 Limitations to Reactive Printing- The nitty gritty!
Before we go in-depth about limitations to printing on natural fabrics with reactive inks, I want to emphasize how much we have standardized our processes to make sure production is as consistent as possible. Whenever you have a multistep process just like we do with reactive, it's essential to put systems in place that minimize possible variations. In terms of regulating our environment, our inventory, and our production consumables, we are particular to a fault!
That being said, we cannot promise every day everything will be exactly the same and with so many factors to consider, we cannot control everything! This is what we mean by limitations because we want you to have ALL the information when it comes to printing on fabric.
Major vs. Minor flawsAfter fabrics are printed, they go through our Quality Check station. At this station, we review the print compared to the original artwork. We look for color accuracy as well as flaws that can occur during the print process, like we detail below. In general minor flaws, flaws related to the fabric and limitations that we cannot control will pass quality control. Major flaws related to mistakes in our print process like a head strike (print head touches the fabric), severely flawed fabric, large water marks and things like that, will trigger a reprint.
The grain, skewing, and shrinking on reactive fabrics
Limitations: Reactive printed fabrics are under high tension during the full pretreat print, steaming, and washing processes. This means that the grain of the fabric can change sometimes or we can see a small degree of skewing. This is more prevalent on lighter fabrics since they are less stable. We have systems in place to minimize skewing but there's always a small chance of it happening.
High heat is used during the pretreating and washing processes in reactive printing so it's normal to see some shrinking on fabrics. Depending on the composition of the fabric, the shrinking may not be the same in both width and length. Refer to our fabric pages to understand to what extent your natural fabrics prints may shrink during printing and if your project is highly specialized, make sure to do some tests before printing larger runs.
Centering of the print on the fabric
Limitations: Our printer has an extensive infeed that guides the fabric on to the printing belt. Even with this infeed, fabric rolls are not always perfectly rolled, so the fabric can shift around on the printing belt as it enters production. We allow for around a 2" margin on either selvedge (edge) of the fabric width to account for this shifting. Depending on how the fabric is fed into the machine, your print may not be perfectly centered on the fabric.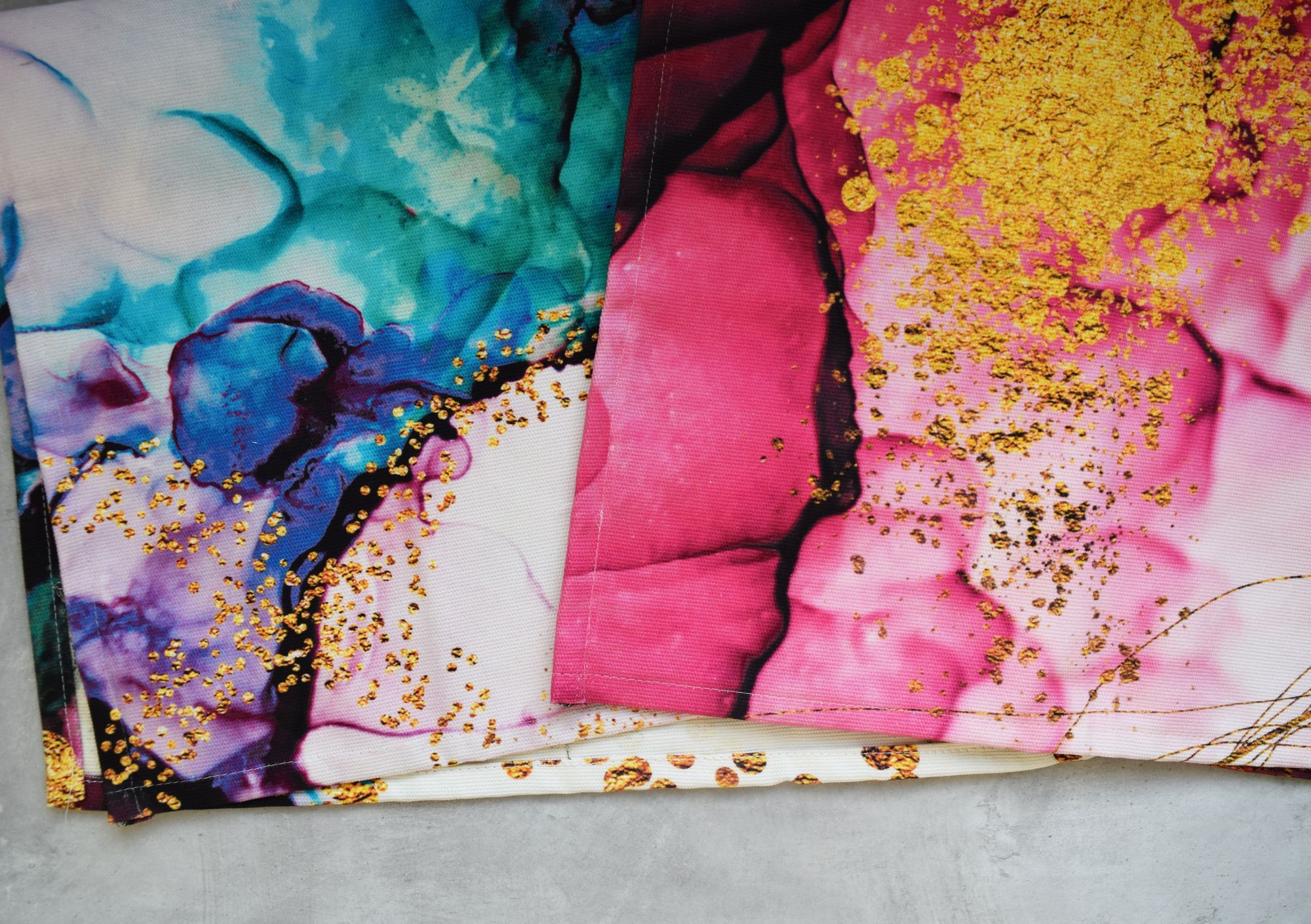 Variations on the Base Color of Fabrics
We process a large amount of fabric per day. When you place an order, we may not be using the same lot of fabric as your previous order. It is normal that variations in the base color of the fabric will occur. Also, during our wash process, the fabric may absorb a trace amount of ink from the water causing small variations in the base color. If you artwork has a large amount of white in it, these base color variations will be more noticeable than on full color artwork. If you would like your fabric to be as consistent as possible in the base color, it is better to order more at once instead of less over multiple orders.
Print Color results on orders and reorders
Just like we noted above where the base color of fabrics between orders may vary, there may also be variations in color outcomes on reorders. Though we have carefully calibrated out profiles, some factors that are hard to control like ambient conditions that can affect color outcomes to small but noticeable degrees. We cannot promise that your colors will print exactly the same between orders. If you need a large amount of fabric and consistency is important, it is better to order more in 1 order instead of  less in multiple orders.
We cannot guarantee that print colors will perfectly match your artwork. Printing on fabric is significantly different printing on paper. Our printing systems are optimized to print your images onto our range of fabrics, but the final color results may differ from what you expect from your artwork on the computer screen. Computer screens are backlit which means colors on them are brighter than on finished fabrics. Also, while our color range is large, for artwork with very low contrast, our printer may not be able to reproduce every shade which leads to less detail in the print result. If you would like to have highly accurate print results, we recommend working with a color chart. We have one available (currently $20 including shipping and available on all fabrics) and with over 700 color swatches, it will help you adjust your files to the real color results.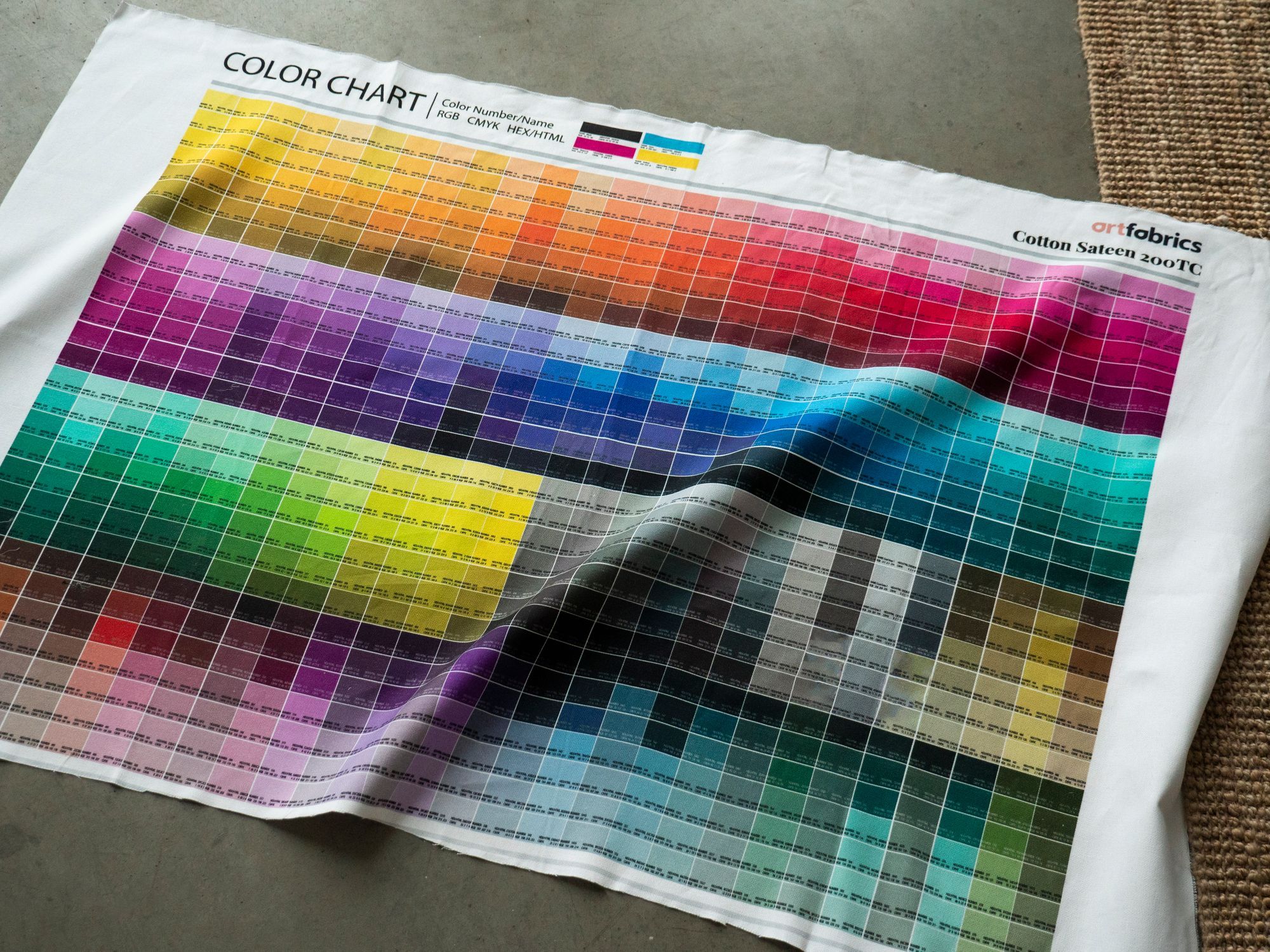 Color results from fabric to fabric will be different. Different fabrics absorb ink differently and therefore will result in different print results. Shiny, smooth fabrics like charmeuse and sateen tend to give more vibrant results whereas prints on matte fabrics will appear more dulled.  
Printing solid colors
While it's possible to print solid colors with digital printing, it's not ideal to print large areas of solid colors with our system. Solid colors are better to dye than to print. Even though we use a reactive process which penetrates the fiber cells, there's a limit to how far the ink will go through the fabric. Also, there may be some unevenness on the color when printing large solid colors since the printer prints in strips. As you'll see below, some natural fabrics have fuzzy surfaces and small fibers or lint may come off during the washing. When this happens you'll see blank dots where the fiber washed off the surface and a small break in the print. Solid prints show surface fuzz breaks more than full color prints.
Printing Continuous Meters
When it comes to fabrics, what you need to order will vary significantly based on your project. Since many things can happen during production, we cannot guarantee that an order over 3m will be printed continuously. If you order more than 3m of fabric, it may be delivered in multiple pieces. For example, if you order 6m of 1 print, it may be delivered as 2- 3m pieces. If you order 20m of fabric, it may be delivered as 1- 14m piece and 2- 3m pieces.
Some of the reasons why we need to interrupt continuous prints includes a change of fabric roll (the fabric roll ends), a head strike on the printer, a necessary cleaning of the print heads, or a major flaw on the fabric roll. It's not realistic to expect us to predict in advance the outcome of your print run, and if we were to guarantee to deliver continuous runs only, our pricing would be significantly higher to account for the huge amount of waste that would go with that! We do guarantee to treat every order with the utmost care and we will always strive to deliver your fabrics in the longest runs we can achieve.
If you project has a very specific need, get in touch with us before ordering so we can talk it through.
Fabrics with Fluffy/Fuzzy Surfaces
Some fabrics have surfaces that are fuzzier than others. This is most common on cotton based fabrics since cotton fibers are usually shorter than other fibers. Out of our fabrics, the 2 with the most surface fuzz are the cotton/linen canvas and the organic cotton/hemp. Since we wash our fabrics after printing, the washing process can remove the larger surface fibers resulting in a spot where the ink no longer appears. This tends to look like small white dots that break the print and is especially noticeable on solid areas. Since surface fuzz is a characteristic of the fabric that we cannot control, it is not considered a flaw to see these print breaks on our fuzzier fabric. We suggest printing images on the cotton/linen and the cotton/hemp that do not have large solid areas.
Watermarks
The way our printer system works is we are continuously washing our print belt as we are printing. It's very important that each time the print belt carries new fabrics though that it is perfectly dry or it will leave a watermark on the fabric. Water marks most often happen when a small piece of fluff is stuck on the belt. Most water marks are very small. For runs of fabrics over 3m, we cannot guarantee that they will be free of watermarks. Watermarks are considered a minor flaw and can in most causes be worked around when creating your pieces. However, too many watermarks on the fabric will mean a reprint.
Reprints on continuous meters
Since we only guarantee up to 3m of printed fabric, orders of 4m or more that have a flaw will most likely have extra meters included to compensate for the flaws. For example, of you order 5m of 1 print and there's a major flaw towards to the middle of the 5m, we will include and extra 1m of printed fabric. For an order of 20m of fabric with a major flaw say 4m in from the end, we will include around 2m of extra fabric. The amount of extra fabric is generally determined by the size of the order and the impact of the flaw.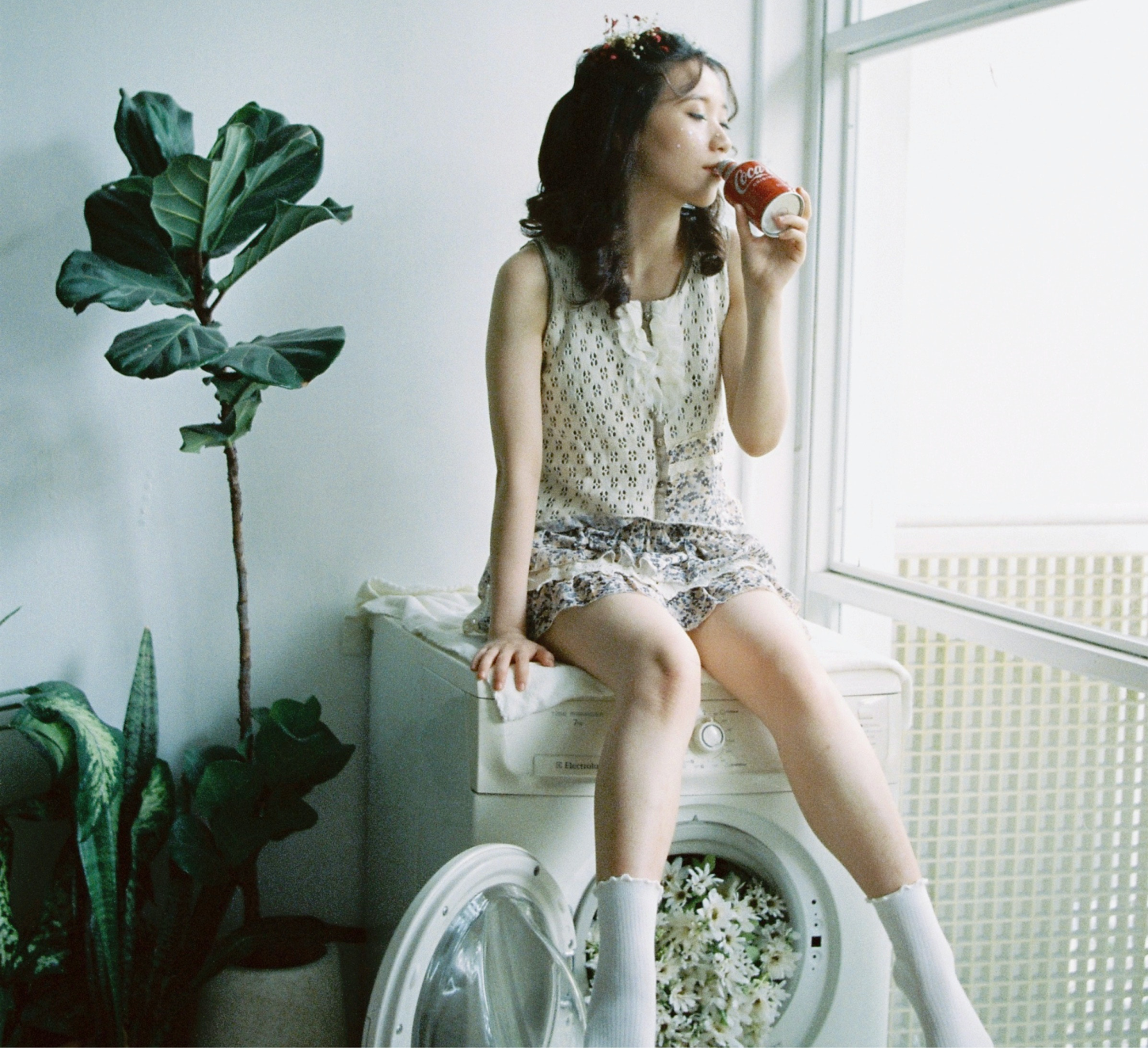 Washing Reactive Fabrics
Reactive printed fabrics are permanent. However, they are sensitive to washing the first couple times after printing. We include washing instructions in our shipments. They are:
How to wash reactive fabrics: Wash fabrics separately from other items on a regular wash cycle using warm water. You must use a full water cycle (not reduced) as any excess ink that washes off must be diluted so as not to transfer back onto the fabric. Add 1 cup of vinegar and 2 teaspoons of salt to the washer. Transfer fabrics immediately to the dryer. Do not allow to sit wet in the washing machine. If fabrics do sit, you may see bluish stains where ink heavy services transfer to lighter areas. If this happens, wash again using the same full water settings and detergent.
After the first couple of washes any excess dye has been removed and further transfering should not happen.

In conclusion, reactive printed fabric looks and feels wonderful but there are some limitations to be aware of. Please keep in mind that we are a print-on-demand company and while 95% of submitted files work on our systems, there are 5% that are not ideal and perhaps better suited to another type of process.
If you have any concerns, please reach out so we can discuss your specific project.
Get Creative with Art Fabrics!