This post features the Wrapped Cardigan from IndieSew (now Allie Olsen) who unfortunately no longer sells this pattern! However, we suggest similar patterns to try if you'd like to make a similar garment! Read on!

In our last blog post we discussed the idea of transition pieces - those items in your wardrobe that help you transition through the awkward temperatures when it's not quite cold but definitely not warm - and how they can make dressing in the Fall and Spring that much simpler. The first transition piece that we recommended everyone have in their wardrobe is a long flowy skirt, one that can be paired with a warm sweater when it's cooler or a lite jacket when it's warm. Today we're bringing you our second recommendation, which is a wrap cardigan! Wrap cardigans are great because they're breathable for those warmer days and super easy to layer when it's a bit chilly.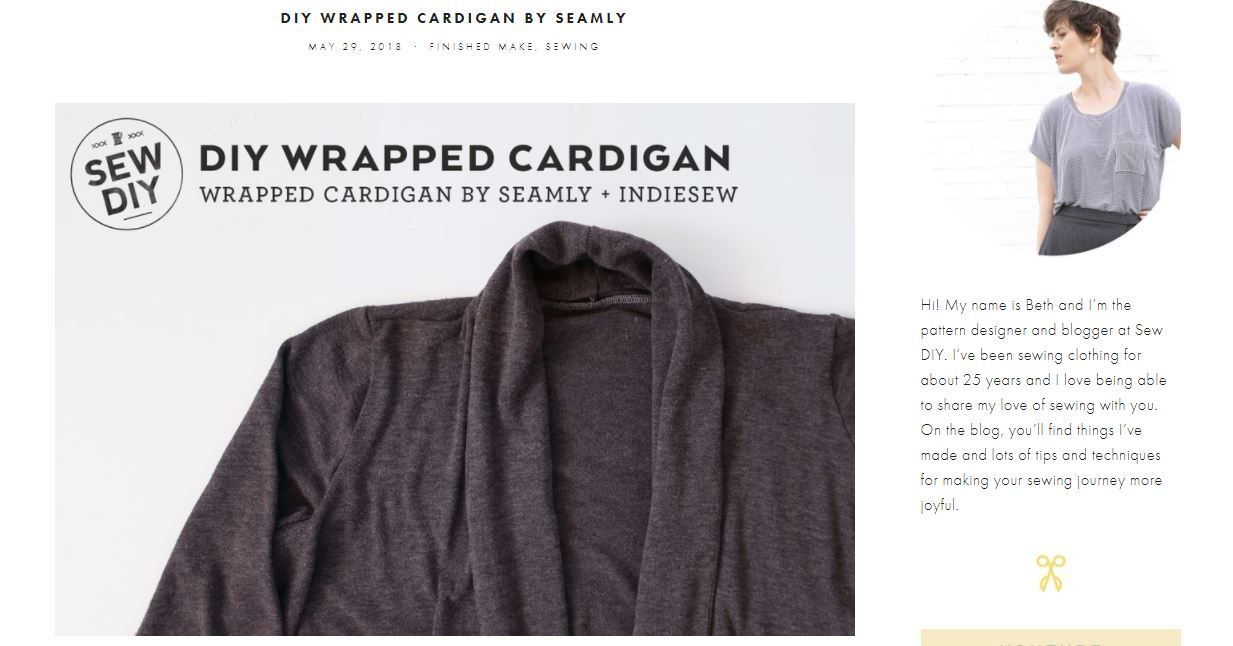 For this fun fall project we are using the Seamly Wrapped Cardigan pattern, which was a collaboration pattern between Seamly and IndieSew. There's a great write up about it by Beth at SEW DIY you can check out. Unfortunately, since purchasing this pattern IndieSew has become Allie Olson sewing patterns and this beautiful cardigan has been removed from the website. This wrap cardigan pattern from Trash to Couture, however, is a  great alternative to the Seamly Wrapped Cardigan pattern. She even shows you how to create the garment pattern yourself! This pattern checks off all the essential elements of a good wrap dress - thigh length, flowy, cozy and cute! Cardigans like this one are also super easy to add personal touches to, which you'll see a great example of in our finished product!
Allie Olson still has other SUPER cute patterns though, even without the wrap cardigan, such as this gorgeous wrap dress and this fall friendly jacket. I could DEFINITELY recommend you check out her site for some other sewing inspo!
The fabric for this cardigan needed to be something cozy yet layerable, and something we want against our skin for extended periods of time. To fit this bill perfectly we chose our every versatile peachskin jersey. Peachskin jersey weighs 200g/m2 and feels a bit heavier than your typical t-shirt fabric. It has a brushed surface that makes it so comfy to wear. It washes well and won't pill even after multiple wearings and lots of washing!

I designed the print in our Design Lab and was inspired by the less traditional colours of autumn - the soft blue of the sky, the pops of orange in the trees. Once again, you can check out the video below to see exactly how I made this print using our Design Lab.
That's it for me! I'll pass you off to Kate for an overview of the sewing and some gorgeous final pics!

Thanks Jess! And away we sew!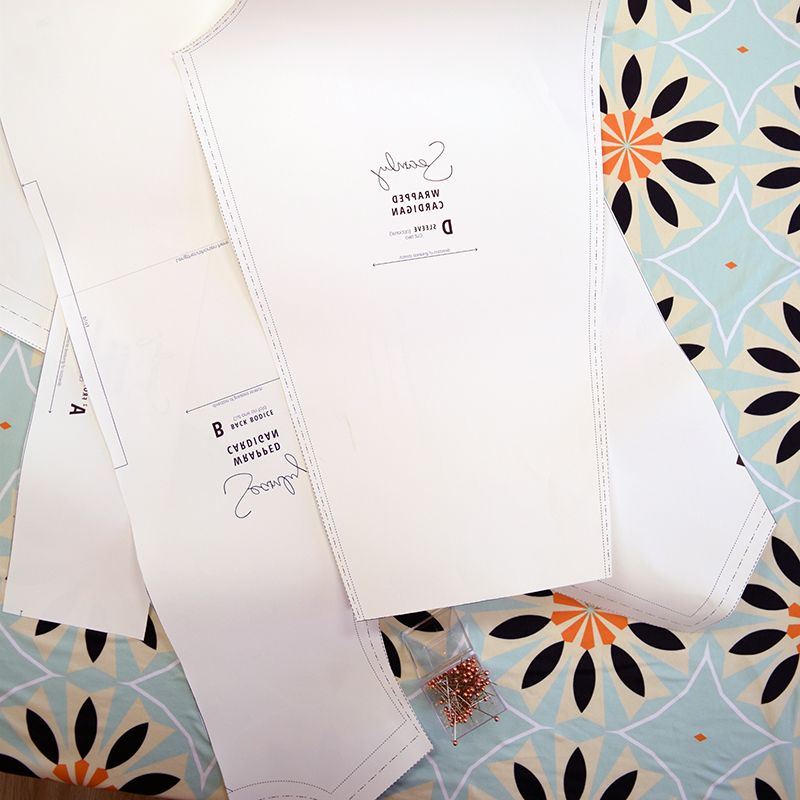 When working with large patterns, it's important to pay attention to your print when cutting. I printed 4m of peachskin fabric (58" wide) so I would have plenty to work with. If you have a less obvious print, you would be able to get away with 3.25m which is what the sewing pattern calls for.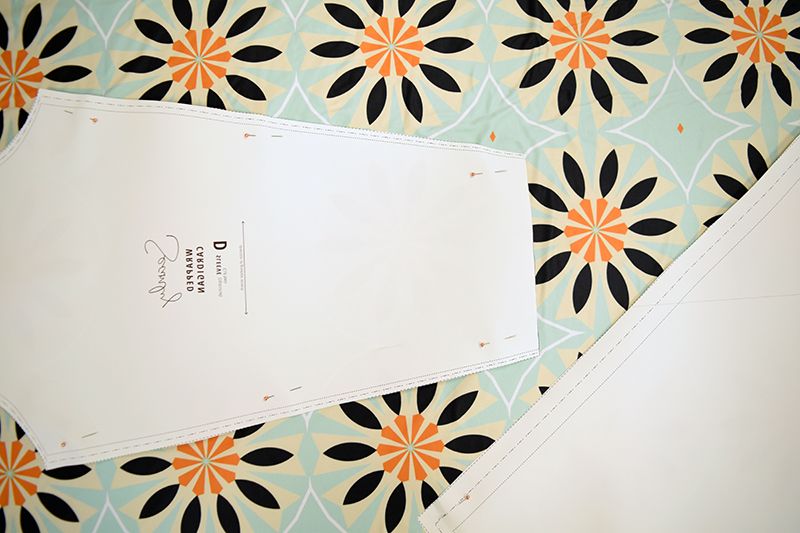 I sewed this garment from our workshop using a 3 thread overlock and an industrial straight stitch machine. Since the peachskin is very stretchy and I didn't have a zigzag stitch or coverstitch machine handy, I opted to not topstitch the facing down like the pattern suggests. Instead, I attached the facing into the neck seam at center back, sewing about 2 inches before and after the center back seam.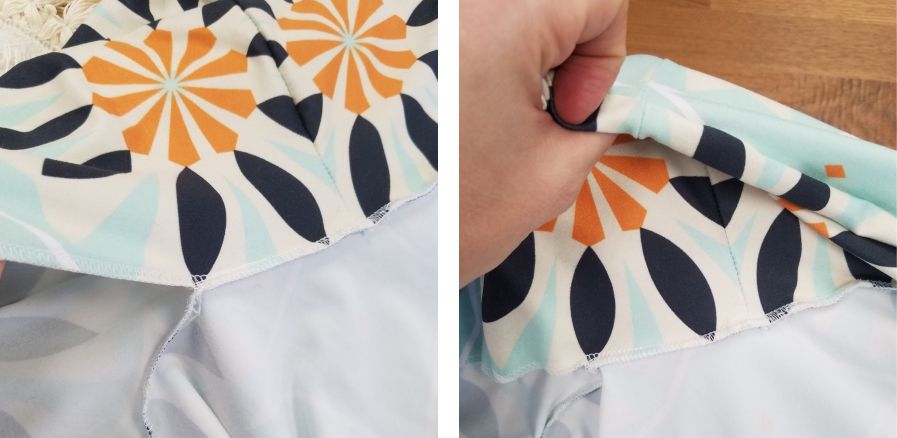 While it's not a perfect solution, I found it was the best result to get with my machine limitations. If I had cut down the facing by about an inch, the facing seam would have been more accurate and wouldn't show on the outside. But since my facing was made in the same fabric as the body and the peachskin fabric is so drapey anyways, I find it's not noticeable in the final garment. I would cut down the facing for a second version though.
Once I got the facing sorted out, the rest of the garment was a breeze to assemble. When I got to hemming, I ran into a similar problem with not being able to use the straight stitch to make the hem edge. I did try, but without ball point needles, I couldn't even get the stitches to catch. This lead to the best creative solution!!! I had some fringe lying around from another project and realized the color was perfect to match my print! Adding fringe meant that I could use my straight stitch since the stitches would anchor in the fringe instead of needing to anchor in the peachskin. I overlocked my edge, then simply topstitched the fringe down on the edge.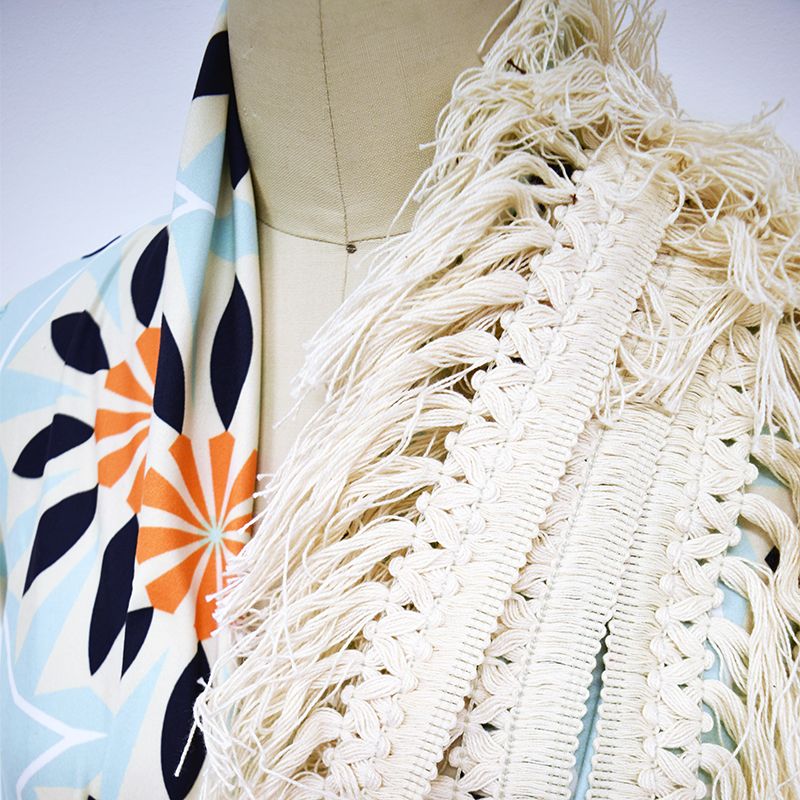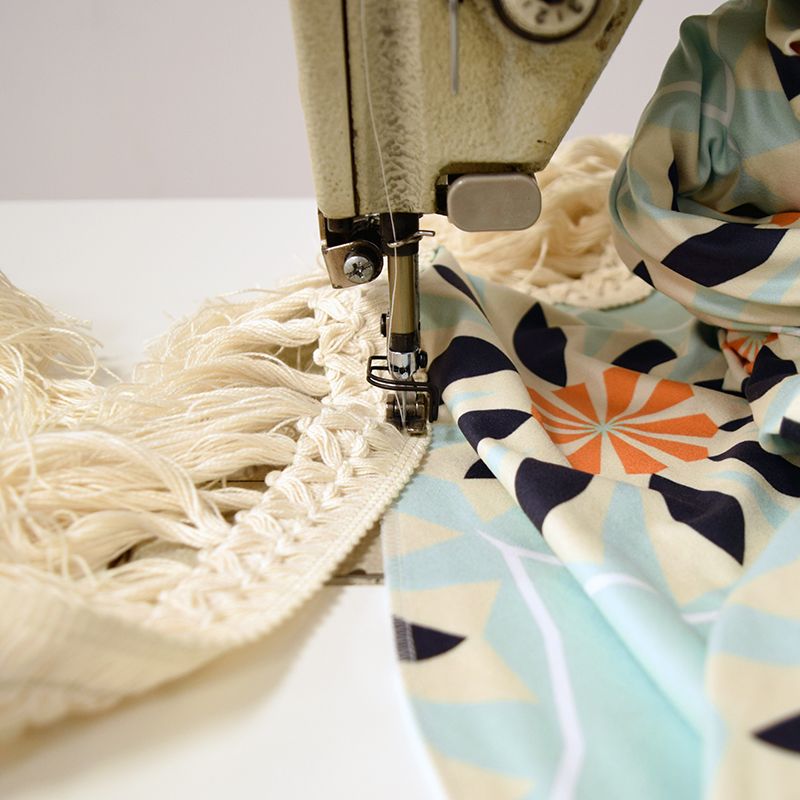 And with that, we're done! It took me about 2 hours from the start of cutting to finish this garment. While I'm a pretty advanced sewer, I would say an advanced beginner could make this project in 2-3 hours.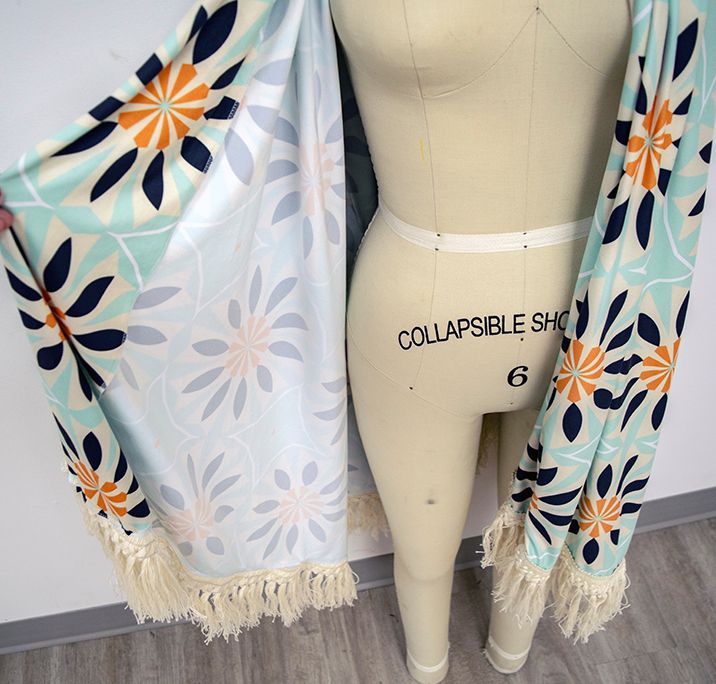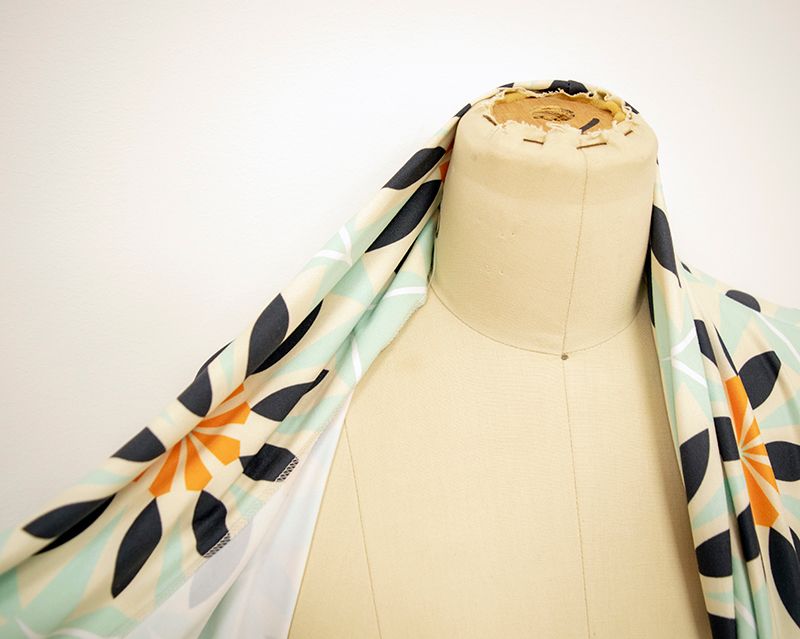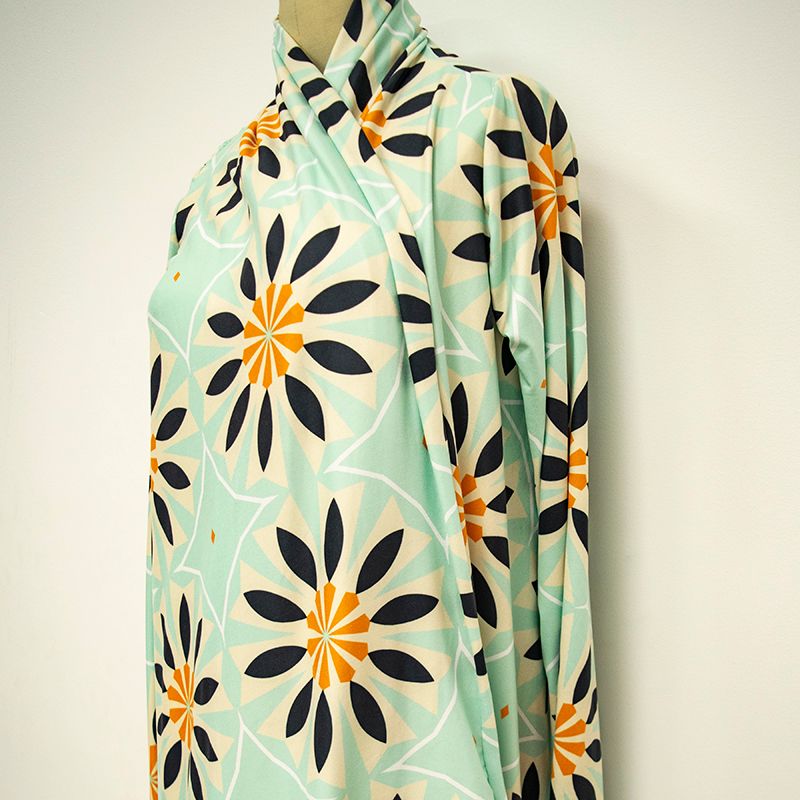 I love how much extra fabric this garment has! Beth at SewDIY talks about how great this cardi is to travel with and I can see why! It feels lovely to be draped in a favorite fabric.

I took out my new wrapped cardigan on a walk in the woods.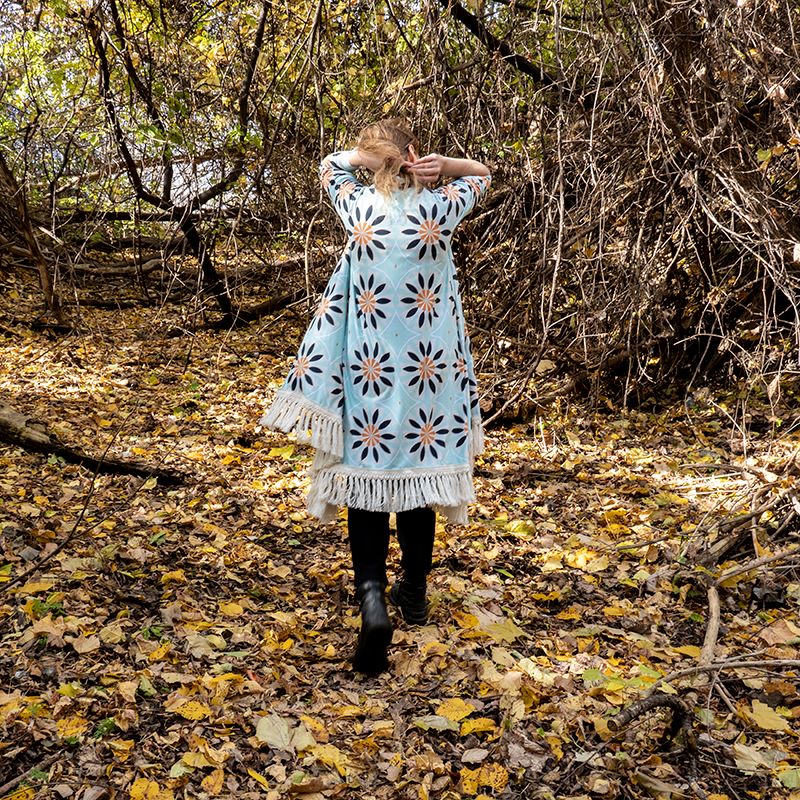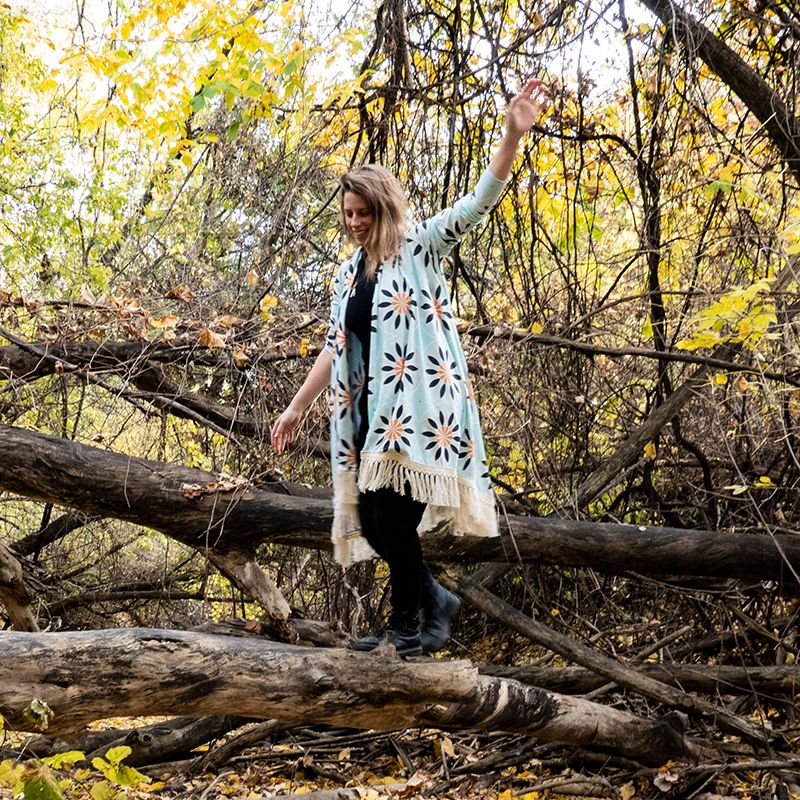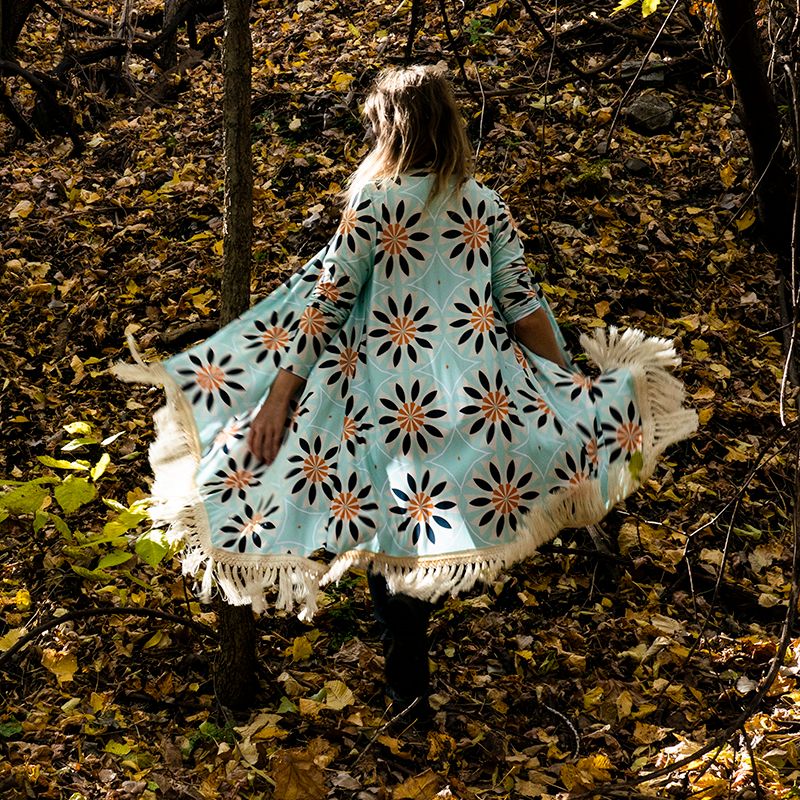 I love a garment that moves! I highly recommend trying a project similar to this one!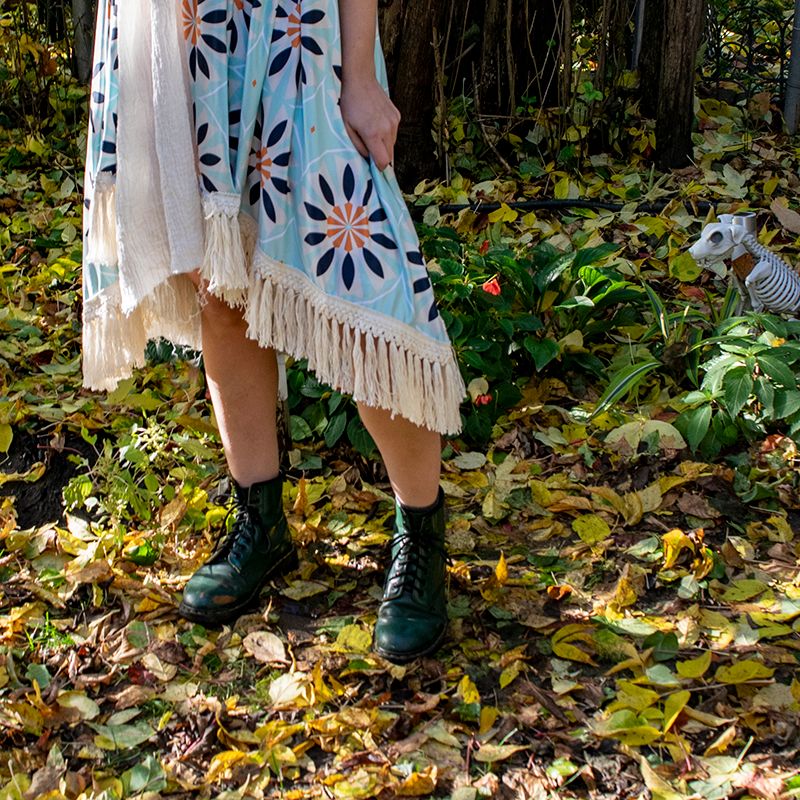 As you can see, wrapped cardigans are very fall friendly! Also, we found a great post by Seamly that talks about different ways to wear a wrapped cardigan. Also, we tried both dressing it up and down and this cardi is great for both! It's a seriously versatile piece to have if your wardrobe.

And that's a wrap (literally lol)! How much did this project cost?
Pattern- $14
Custom Printed Peachskin- We used 4m of peachskin from which is a cost of $88.40. With a more forgiving print, our fabric cost would be about $66.30.
Notions: Fringe- approx 3m at $2.15/m
Total: $108.85
So if you take away the pattern cost and use the lesser amount of fabric, it would be around $70 cost to make future cardigans in the peachskin. This project is still abit on the pricey side due to the large amount of fabric it takes. In our next projects, we'll be focusing on projects that require 1m or less in fabric to keep costs lower. An alternative is to combine prints with solids to keep project costs down.

Thanks for checking out our first project! With so many amazing independent pattern designers out there, we can't wait to keep the projects flowing off our printer and inspire others to Get Creative!